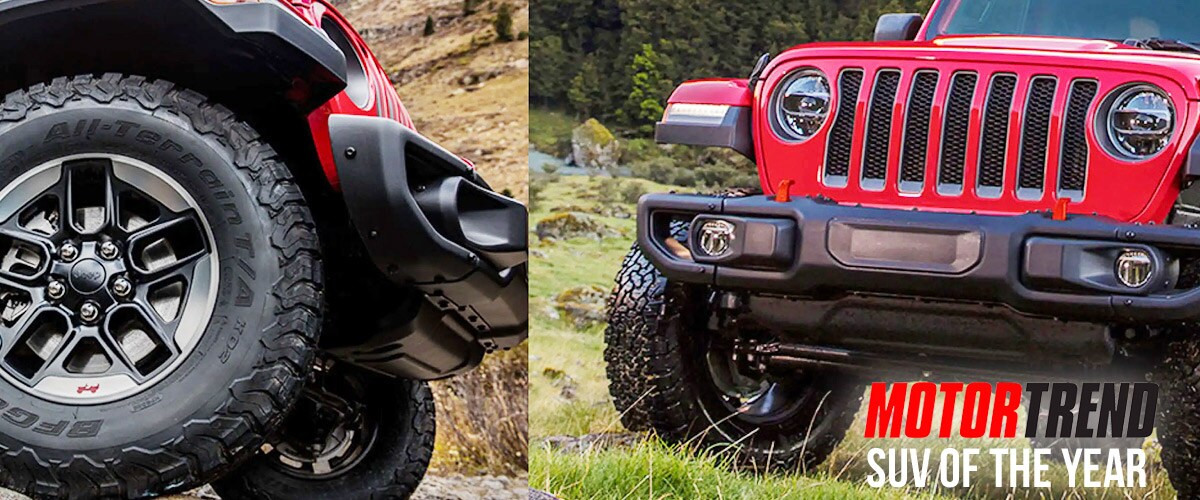 The 2019 Jeep Wrangler makes big changes to the iconic SUV, but retains its legendary character. It's no wonder it has been a big hit in South Carolina, and also with the critics. That certainly goes for Motor Trend, which named the 2019 Jeep Wrangler its SUV of the Year. With the 2019 Wrangler, Jeep has brought more comfort, more capability, more tech & safety, and greater practicality as a daily driver. All this and more helped make the Wrangler SUV of the Year, so let's take a look at what Motor Trend had to say about the all-new 2019 Jeep Wrangler.
The All-New, Award-Winning Wrangler
While the Jeep Wrangler has long been known for its incredible off-road capability, it wasn't necessarily the best choice for a family vehicle or daily driver. Jeep set out to change that with their 2019 model, and it certainly paid off. Motor Trend was particularly impressed with the all-new Wrangler's handling on pavement, offering a much more comfortable ride than past generations. Jeep extended the wheelbase to add stability and interior space, and upgraded just about every aspect of the Wrangler's construction and materials. That extends to tech as well, with even the base Wrangler offering strong infotainment options.
Safety is a big factor in Motor Trend's evaluation, and Motor Trend was impressed with the Wrangler's improved visibility, as well as its range of safety features like assisted braking, blind-spot monitoring, and more. They also noted that, while still using its rugged body-on-frame construction, Jeep has made the Wrangler more maneuverable than many competitors, providing a responsive and confident driving experience.
Improvement over the previous generation is a key component of Motor Trend's scoring, and they registered huge improvements across the board. From its more comfortable suspension, more practical interior, higher-quality materials, and more, Motor Trend loved the 2019 Jeep Wrangler's improvements. But not only the Wrangler's construction impressed the judges. Its responsive and powerful engines set a new standard, and add a new chapter to the Wrangler's history as the most capable vehicle on the market.