Why Buy at Benson Chrysler Dodge Jeep
There's no doubt that folks in the Greenville and Asheville areas have a lot of options when shopping for a new or used Chrysler, Dodge, Jeep, or RAM vehicle. But there's something special about buying your car from a family-run business you can trust. That's why more South Carolina buyers choose Benson CDJ than any other dealership. From our sales staff, to our service department, all the way up to our proud ownership, Benson Chrysler Dodge Jeep is driven to do one thing: Serve our local customers.
So why buy at Benson CDJ? Excellent service is just the beginning.
 Recognized in South Carolina & Beyond
Becoming South Carolina's #1 Chrysler Dodge Jeep RAM dealer in both sales and Google reviews didn't happen overnight. It's a story of hard work and dedication, starting with owner Jim Benson. Named South Carolina's Dealer of the Year by TIME Magazine, Jim Benson has spent much of his life not only building a customer-centered dealership, but raising up his community as well. And his values of community, honesty, and dedication have been passed on to every member of the Benson CDJ staff.
Through our dedication to our customers, we have grown to be the top-rated CDJR dealership on both Google and CarGurus, as well as earned a 5-Star Dealer award from Chrysler, their highest honor for a dealership. Our customers across South Carolina and North Carolina choose Benson Chrysler Dodge Jeep RAM because they know that no matter what, no matter how long it's been since they visited, they can count on us.


#1 In Sales Means Better Prices for You 
We sell more Chyrsler, Dodge, Jeep, and RAM vehicles than any other dealer in South Carolina. That means better prices for you. Period. And we know that many Asheville and Hendersonville, NC residents want to shop for their car online, or even purchase without visiting us in Greer, SC. That's why we don't set artificially high online prices, or make you come in to get the best deal. We are committed to offering you the best prices, and the best service, no matter where you are.
Due to our high sales volume, we are also able to stock a huge selection of new and used vehicles in many configurations. Our Greenville, SC customers enjoy their pick from the latest Chrysler, Dodge, Jeep, and RAM vehicles, as well as our pre-owned vehicles priced well under market average. Shoppers in South Carolina who find Benson CDJ will be met with prices that can't be beat, as well as a committed staff that is there for the long haul.
Benson CDJ - People You Can Count On
When you were growing up, was there ever a business owner or employee you could count on day after day, year after year? For some of us, it was the man who sold us our Christmas tree each and every year. For others, it was the family doctor they saw for each and every visit. While those long-term relationships aren't as common as they once were, that tradition is alive and well at Benson Chrysler Dodge Jeep. For decades, our customers have enjoyed lasting relationships with the folks here at Benson.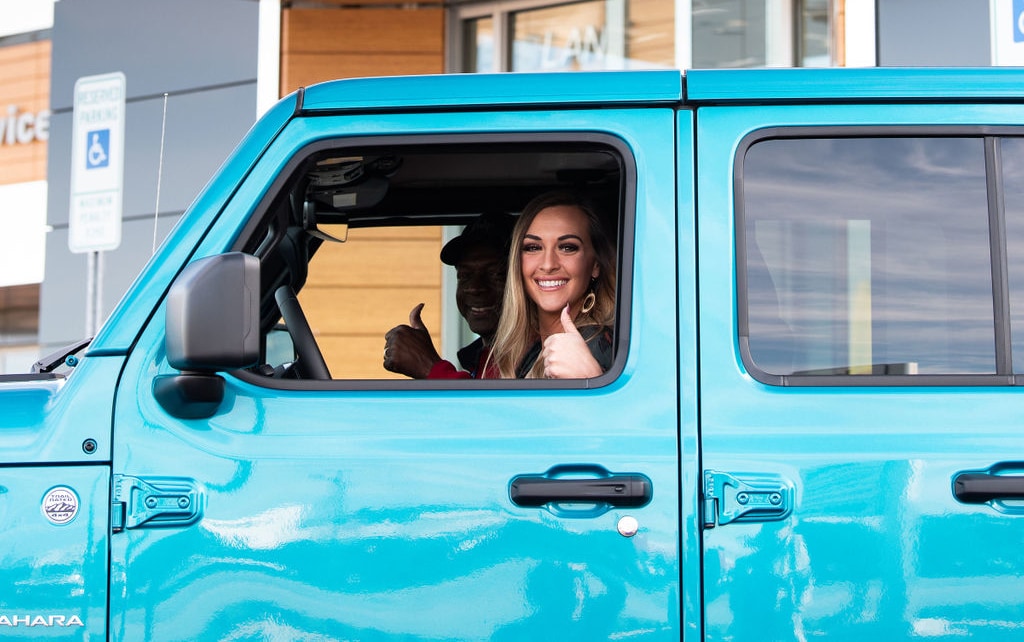 Just browsing through our staff page, Easley and Spartanburg shoppers will find that dozens of our staff members have been with Benson CDJ for over a decade. Some for over thirty years. This is not the norm among car dealers in South Carolina, but these lasting relationships form the bedrock of Benson CDJ's success. They're the relationships that bring our Greer and Greenville, SC customers back year after year, generation after generation. And we wouldn't have it any other way.
Sales, Service, Simple 
Have you ever gone to a car dealership, and felt like it was more complicated than it had to be? At Benson CDJ, we make things simple. Whether you're coming in from Asheville to buy a car, or you're in Greer and need us to service your vehicle, you can expect friendly, professional, and simple service. And as of this writing, we're preparing to move into an all-new location, complete with a larger, more advanced service center. So if you've serviced here before, or are going to make your first appointment for our service center, you can expect nothing but the best from Benson Chrysler Dodge Jeep.
And no matter what your question, big or small, you can always contact us at Benson CDJ for an answer. Want to know about financing? Specs on an all-new RAM truck? What that one button on the dash does? Our staff is here to make your life simple, and give you a level of service that is above and beyond what South Carolina drivers have come to expect from a car dealership.


Why Buy at Benson? You Decide
Are you in Asheville shopping for the best price on a new Jeep? Nearby in Greenville looking for a great deal on a pre-owned vehicle? Or are you in Easley, looking for a dealer that just does things differently. No matter what you're looking for in a dealership, or where you are, Benson Chrysler Dodge Jeep is ready to set a new standard for service, price, and selection.
If you're looking for an honest dealer, whose staff and ownership is as committed to your satisfaction as you are, then Benson CDJ should be the first call in your search for your next vehicle. With over 2,000 Google reviews, more sales than any other Chrysler Dodge Jeep RAM dealership in South Carolina, and a staff that's in it for the long haul, our accomplishments speak for themselves. But for us, the most important thing will always be our conversation with you, our customer.