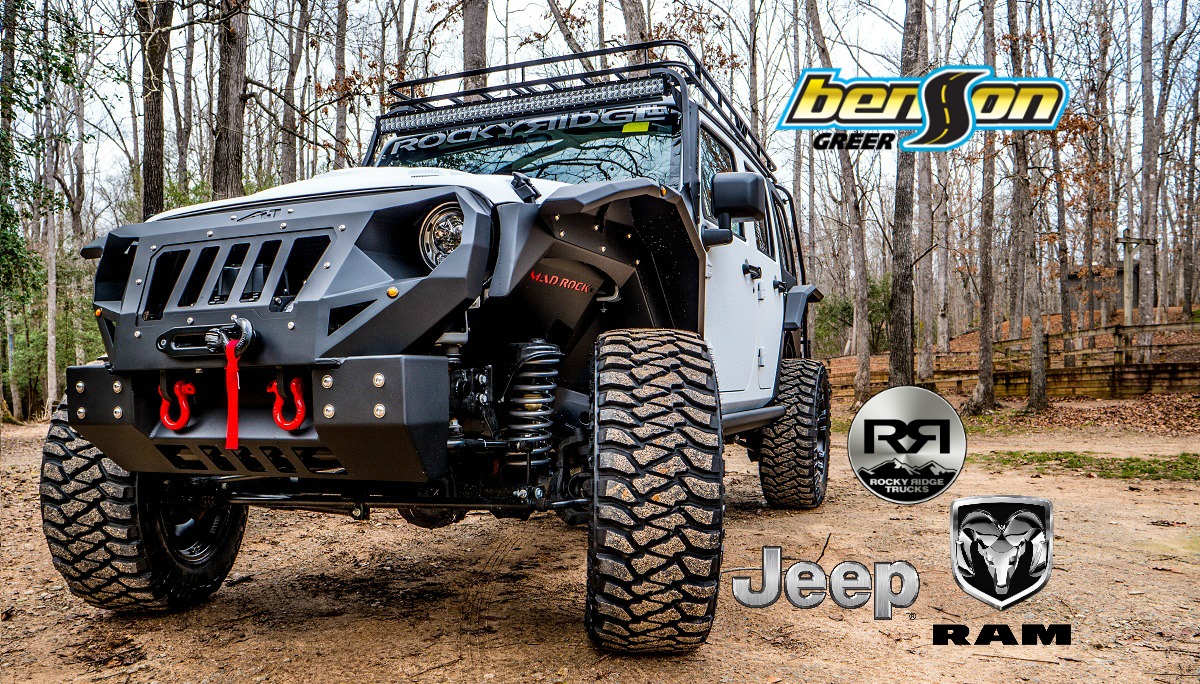 Rocky Ridge Trucks
Rocky Ridge Trucks is an advanced vehicle upfitter known as an SVM (Specialty Vehicle Manufacturer) that builds upfitted trucks and SUV's in accordance to OE specifications. Rocky Ridge Trucks are certified through NHTSA. Rocky Ridge's manufacturing standard, along with a long list of factory and industry certifications, give you the opportunity to purchase a new customized vehicle direct from an authorized dealership while keeping the original factory warranty in place. Also, Rocky Ridge provides an additional warranty of 3 years/36,000 miles to cover components directly installed by Rocky Ridge Trucks.

Rocky Ridge has up to ten different packages for our vehicles, depending on the base model. If you are shopping for a Rocky Ridge vehicle but would like something different, please ask us about all the available options!

When it comes to Rocky Ridge, you know you're dealing with the best in the industry. They manufacture thousands of custom lifted jeeps every year. Every lifted truck and SUV that Rocky Ridge puts together is carefully assembled to maintain the same standard of quality as the manufacturer. Rocky Ridge refuses to outsource or lose oversight of any part of the process. Rocky Ridge builds the entire upfit in house at one of nine different facilities scattered around their 26 acre facility. Each facility is dedicated to performing a different part of the process to perfection and throughout this process your vehicle goes through 7 different stages of quality control. From start to finish, Rocky Ridge Trucks executes every part of your truck's customization with painstaking detail. Every vehicle that Rocky Ridge delivers is built based around their guiding principles of quality, innovation, and trust. That's how they've become the top manufacturer of off-road performance trucks and SUV's in the United States.

For more information on Rocky Ridge Trucks, pleas contact our team here at Benson Chrysler Dodge Jeep and Ram. 
Signature Lift Kits From 2" to 4"
1) High Performance Coil Springs 
2) RR 3.0 Monotube Shocks
3) High Steer Conversion 
4) Replacement Front and Rear Sway Bar End Links
5) Geometry Correction Bracket
6) Adjustable Front and Rear Track Bar Brackets
7) Brake Line Relocation Bracket
8) Rocky Ridge Pure Drive Technology
Custom Wheel & Tire Packages
1) 18-20" Wheels
2) 32-37" Tires
3) Alignment, RF Balancing, System Calibration
Premium Options
1) Custom Leather Seating
2) Remote Control Start
3) Snorkel System
4) Petty Performance Pack
5) Full Exterior Stealth Armour Coating
6) 6-Switch Panel With Voltage Meter
7) Rear LED Brake Lights
8) Dual Exhaust with Ceramic Tips
9) LED Directional Headlights
Example Interior/Exterior Modifications
1) Heat reduction Hood
2) Pillar Mounted 50-Inch LED Off-Road Light Bat
3) A-Pillar Light Bar Mounts
4) Power Retractable Side Steps
5) Fab Fours Grumper Front Bumper
6) Front Skid Plate
7) 8,500lB Synthetic Rope Winch with Cover
8) LED Front Turn Signals
9) Fab Fours Rear Bumper
10) Off The Door Tire Carrier 
11) Light Extension Bracket
12) Power Coated Steel Front Fender with Flare
13) Powder Coated Steel Rear Fender with Flaare
14) Front Grill Box
15) Pillar Mounted Switch Pod with Illuminated Rocker Switches
16) Front License Plate Bracket
17) Rocky Ridge Tail Light Guard
18) Nylon Web Roll Bar Straps with Molded Grip Handles